News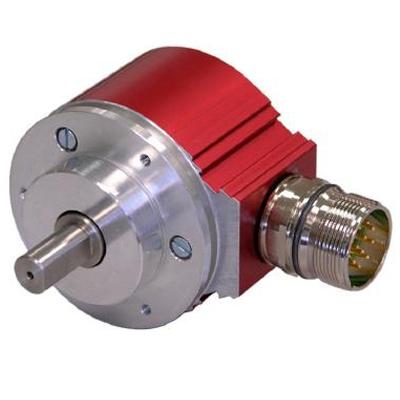 March 10, 2015
TROY, MI and LONDON, ON -- TR Electronic, a leading manufacturer of encoders and sensors for the automation industry, has launched its next generation of Programmable Incremental Rotary Encoders.
For years, incremental rotary encoders have been proven components for the detection of position changes in automated systems. The new generation of programmable incremental rotary encoders (the I__58:2 Series) from TR Electronic continues to build on its industry-leading technology. Giving you the ability to display and adjust absolute position, RPM over-speed/under-speed and count direction, the new product series can now tell you everything that an absolute rotary encoder can. Some may even call it the Intelligent Incremental Encoder.
Stephen Watson, Sales & Distribution Manager at TR Electronic, stated, "Incremental encoders are normally dedicated output, fixed disk devices used on a variety of machines, which often produce different encoder output data levels. This translates into keeping several encoders in inventory as spares. The launch of our new I_58:2 Encoder Series changes all that. It offers our customers a fully configurable solution; customers can now stock one encoder for multiple uses."
The programmable incremental rotary encoder offers several key competitive advantages, including:
·         Field Programmable Resolution
·         Field Programmable TTL/HTL Output
·         Field Programmable Index Gating (Pulse Width & Position)
·         Field Programmable Output – Over-speed/Under-speed Switching Output
·         Reference Pulse Position Preset Via Connector
·         High Accuracy Class (Arc Seconds)
The I__58:2 Series is available in high resolution and variant mechanical configurations. ATEX compliant and Heavy Duty options are also available for the harsh conditions of heavy industry applications.
The versatility of the new programmable incremental rotary encoder demonstrates why TR Electronic is a premier global supplier of position verification and control solutions. 
To learn more, visit http://www.trelectronic.com/incremental-encoders.php, e-mail customercare [at] trelectronic.com (customercareattrelectronicdotcom), or call 1-800-265-9483.
About TR Electronic
Since 1989, TR Electronic North America has been an industry leader in manufacturing and supporting position feedback, drive technology and sensor solutions world-wide. Through its complete line of absolute encoders, linear measurement systems and industrial sensors, TR Electronic is able to deliver exceptional results every time.