News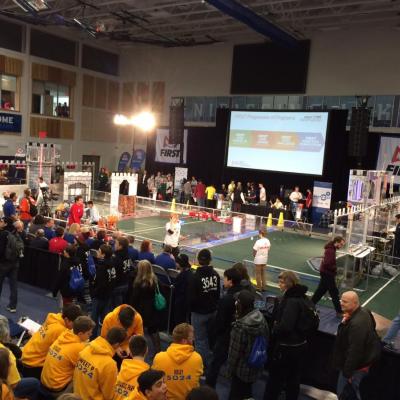 April 04, 2016
As some of you know, TR Electronic provides sponsorship and mentorship to the high school robotics team at H. B. Beal Secondary School in London, Ontario, Canada. The team is called 'Raiders Robotics'. We've been involved with the team going on three years now. This team competes in the FIRST® (For Inspiration and Recognition of Science and Technology) Robotics competition. It's a not-for-profit organization that designs accessible, innovative programs that motivate young people to pursue education and career opportunities in science, technology, engineering, and math, while building self-confidence, knowledge, and life skills.
The FIRST® Robotics competition combines the excitement of sport with the rigors of science and technology. It's as close to "real-world engineering" as a student can get. Volunteer professional mentors lend their time and talents to guide each team.
TR Mentor, Kevin Condorato, accompanied the team to a regional competition in North Bay, Ontario, Canada recently (and drove through some treacherous weather to get there!). The Raiders had an outstanding finish and came away with the coveted, Spirit Award. The team's next competition will be in a few weeks in Windsor, Ontario, Canada.