News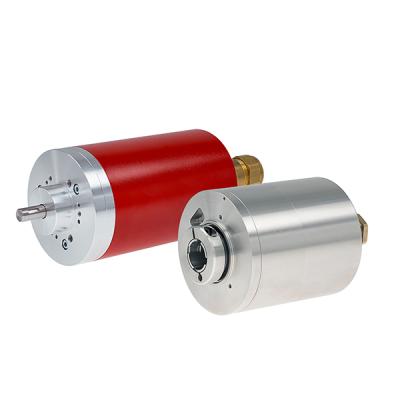 August 14, 2017
Whether dockside cranes with their heavy engines, the harsh climatic conditions of wind turbines, the explosive dust atmospheres in food processing technology or gases in painting lines – positions and movements must be safely detected in all of these difficult environments. However, this combination of environmental conditions and the requirement for functional safety considerably restricts the choice of suitable equipment.
The CD_75 family of functionally safe rotary encoders from TR Electronic is already established on the market as a solution for integrated safety with absolute position and speed information, which can be seamlessly integrated into a safe control configuration. The angular position of the encoder shaft is absolutely and redundantly detected over up to 32768 revolutions. The measured values of the two independent scanning units are checked for plausibility in the absolute rotary encoder. The validated position and speed values are transferred with a secure protocol via field bus or Industrial Ethernet. The absolute position values are available immediately after switch-on. As the measured values are transferred directly into the safe control, no wiring or parameterization of an additional safety module is required. Fewer components, which are interconnected in a less complex manner, increase the availability of the complete system.
Position and speed values are transmitted via ProfiBus and ProfiNet with the PROFIsafe protocol. OpenSafety is used for safe transmission with Powerlink and FSoE (Functional Safety over EtherCAT) is available for EtherCAT.
The absolute rotary encoders are certified for applications up to SIL3 and PLe and thus fulfill the highest safety level which an individual component can fulfill. The rotary encoders with standard mechanism are connected to the machine shaft by solid shaft or continuous hollow shaft. Groove/spring connections ensure continuous form closure. A wide range of available flanges and centering collar diameters enable the rotary encoders to be adapted to existing machine constructions.
Even the standard versions of the safe absolute rotary encoders from TR Electronic fulfill the requirements of many automation environments. For special environmental conditions, TR provides adapted heavy-duty solutions based on the CD_75 family.
If high forces are expected on the shaft, as with direct mounting to simply designed three-phase drives with belt pulleys or chain wheels, the collar bearing absorbs these forces and thus preserves the long-term availability of the rotary encoder. The collar bearing is already included in the safety evaluation of the rotary encoder and has continuous form closure from drive shaft through to encoder scanning.
For salt-laden air, as is expected with ship cranes or in offshore wind turbines, there is a salt water-resistant housing design with a solid shaft drive with increased impermeability up to IP67.
If the resistance of these variants is inadequate, the CD_75 is also available in an all-stainless steel housing. This means that users in the fields of process or food processing technology can also benefit directly from integrated safety, in applications where machines or system parts make safety-related movements and at the same time come into contact with aggressive substances or are intensively cleaned on a regular basis.
Explosive atmospheres pose very special challenges. Dust in mills and gases and vapors in painting lines make a factory hall or transfer line a hazardous area. All equipment used there must be designed so that it does not pose a risk even in a fault scenario. The ADV75 safe absolute rotary encoders from TR are certified for applications in Zone 2/22 and can be supplied with a solid and a hollow shaft. For Zone 1/21 there is the variant ADV88 with special protective housing with 88 mm diameter, which is available with a solid shaft and a slip-on hollow shaft (blind shaft).
The certified, redundant scanning technology is available in two versions: For precise positioning in highly dynamic applications the position is optically scanned and internally compared with a magnetically scanned position. If there is a risk of condensation, the high standard SIL3 / PLe can also be achieved with a dual magnetic scanning system with restricted dynamics. An additional incremental signal (HTT or SIN/COS) is directly available for commutation / speed control with drive inverters.
The zero position of the absolute rotary encoder can be electronically set to the machine's zero position. This eliminates the need for complex mechanical adjustment of the rotary encoder. The adjustment is protected so that an actual value jump of the rotary encoder is effectively prevented in normal operation. The adjustment value is transmitted from the control using a secure process; the encoder only permits the change at standstill.
With the CD_75 family from TR Electronic a safe multiturn absolute rotary encoder is available, which offers the user fully integrated functional safety as far as the drive shaft and which can be permanently used in a variety of even adverse ambient conditions, thanks to different housing and design variants.