News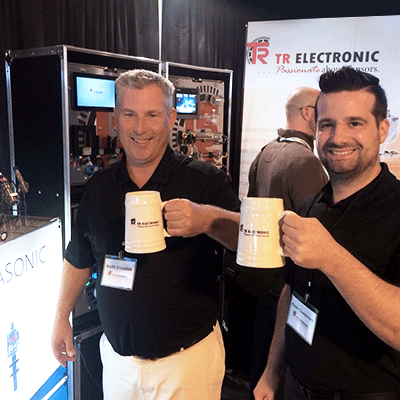 October 25, 2016
The Professional Controls Corporation (PCC) had another successful vendor exhibition this year and TR Electronic was there. TR has been working with PCC since March of 2014 and we enjoy their annual Oktoberfest event. This particular event gives existing PCC customers a chance to discover new products from vendors they don't traditionally purchase from. There's also an opportunity for customers to offer valuable feedback to vendors that they currently do business with. Keith Croxdale and Kevin Condorato also opened the door with other vendors and talked about project-based partnerships and product validation testing opportunities.
A large commercial printing company approached the TR booth with a challenge. The company needed to detect ultraviolet ink in rejected products in the printing process. Our team suggested our di-soric FS Color Sensor with an external UV light and we're excited to be setting up a product demonstration to showcase how we can help.
Overall, Keith and Kevin said they get really enthusiastic talking about our products and an event like the PCC Oktoberfest gives them the opportunity to create brand awareness with the right contacts. The visitors are already purchasing customers for PCC and their diverse industries align perfectly with the products we can offer them. Great beer and great people too!
Ein Prosit!