News
May 05, 2020
Ethernet/IP CIPsafety encoder available with SIL3 (PLe) or SIL2 (PLd) safety certification
Full system redundancy: two independent true absolute encoder cores in a single 58mm enclosure
Additional incremental output available (HTL, TTL or analog Sin/Cos)
Fully configurable through Ethernet/IP protocol (encoder-object, DLR, DHCP, input/output ratio and angular speed reading)
CIPsafety protocol for on-the-fly programming of angular speed calculation, input/output ratio and position preset values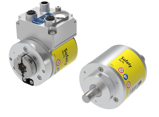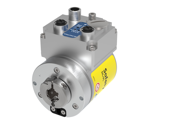 The new CD_582+FS series encoder by TR Electronic is the most compact safety rated absolute position rotary encoder with Ethernet/IP interface available today. Encapsulated in a standard 58mm housing, the two fully independent encoder cores are making use of the latest ODVA protocol specifications for CIPsafety systems, CT17. Depending on the requirements of the application, this encoder is available with SIL2 or SIL3 rating.
The network interface on the CD_582+FS series encoder supports DLR (device level ring) network architecture, increasing the overall system reliability even further. In a DLR network, all devices are connected in a closed ring topology rather than a string or star topology. If a single component or connection within the ring network fails, the remaining network will be fully functional, as each device can still complete a path back to the master controller.
Like all second-generation TR encoders, the CD_582+FS design is based on a modular architecture that allows a large variety of options to be selected to meet your individual hardware requirements. These options include a wide range of metric and imperial sized solid shaft options as well as how shaft and blind shaft versions with bores up to 15mm diameter. A large selection of different flange and mounting options is available to meet your needs along with a choice of radial or axial positioning of the electrical interface.
Whether you are adding functional safety to a single rotating axis or an entire machine: the highly flexible modular design and compact overall dimensions ensure that this critical component will fit into any existing space – no matter how small.