News
July 06, 2023
Absolute Rotary Encoders in Stainless-Steel Housing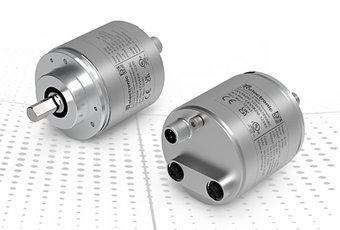 TR Electronic, a leading provider of encoder solutions, has taken a significant step forward in offering Absolute Rotary Encoders with a completely stainless-steel housing (1.4404/AISI 316L). By enhancing the robustness and ingress protection (IP67) of their proven 58mm encoders, TR Electronic has designed a housing that excludes onboard rotary switches (used for addressing). These encoders, equipped with DHCP pre-enabled, provide a seamless addressing solution via software or a DHCP server, eliminating the need for manual adjustments. With a minimized contact surface for aggressive media, these stainless-steel encoders are ideal for applications where corrosion from seawater must be avoided, including offshore drilling platforms, ferry vessels, and seaside cranes. 
Enhanced Durability in Challenging Environments: 
TR Electronic's stainless-steel Absolute Rotary Encoders are engineered to withstand the rigours of aggressive environments. The encoders are constructed from stainless steel 1.4404 (AISI 316L), renowned for its exceptional corrosion resistance. The smooth surface of the encoders, devoid of onboard rotary switches, coupled with permanently laser-etched nameplate data, ensures durability in harsh conditions. Furthermore, a uniform connector connection pattern and simplified flange/shaft geometry minimize the contact surface, protecting the encoders from liquid and dust infiltration. With protection up to IP67, these encoders can be reliably washed down, maintaining their performance even in demanding applications. 
Superior Performance and Connectivity: 
TR Electronic's stainless-steel encoders offer a range of options to meet diverse requirements. Optical sensing provides high-resolution detection of up to 18 bits per revolution, incorporating true multi-turn gearing for accurate revolution sensing in any operating condition. The encoders transmit real-time position, rotational speed, and extended status data via Industrial Ethernet interfaces such as PROFINET, EtherCAT, and Ethernet/IP. This extensive transmission capability enables comprehensive monitoring and analysis of encoder data for enhanced process control. 
Versatile Installation and Compatibility: 
TR Electronic's stainless-steel encoders are designed to fit standard installation spaces and adhere to the dimensions of the proven C__582 encoder series. Featuring a solid 10mm shaft with a flat, and a standard flange with a centring collar of 36mm for clamp mounting, these encoders ensure compatibility with existing setups. The flange includes threads on the face, facilitating easy integration with clamping claws or servo clamps. The standardized connectors provide users with a wide range of pre-assembled cables and various sheath materials to suit different environmental requirements. 
TR Electronic's Stainless-Steel Absolute Rotary Encoders offer a reliable and durable solution for applications where aggressive environments and corrosion from seawater are a concern. With their robust stainless-steel housing, DHCP-enabled addressing, and minimized contact surface for aggressive media, these encoders excel in demanding industries such as offshore drilling platforms, ferry vessels, and seaside cranes. Whether you require optical sensing, high-resolution detection, or SIL-rated performance, TR Electronic provides a comprehensive range of stainless-steel encoder solutions. Contact TR Electronic today to discover how their stainless-steel encoders can enhance your operations in challenging environments. 
Sources: TR Electronic. (n.d.). Pioneering Spirit. Retrieved from https://www.tr-electronic.com/news/news-details/pioneering-spirit